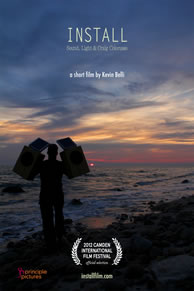 ARTOSPHERE DOCUMENTARY FILM NIGHT
Thursday, June 20 at 7:30PM
Starr Theater at Walton Arts Center
Free and open to the public.
Install: Sound, Light and Craig Colorusso follows the work of artist Craig Colorusso, whose Sun Boxes are currently being displayed around Northwest Arkansas.
Also playing is 10,000 Trees, a film by Missouri native and Artosphere documenatarian Sarah Ginsburg, is the story of a man who met his lifetime goal of planting his 10,000th tree.
Bending Sticks: The Sculpture of Patrick Dougherty, highlights the career of last year's Artosphere artist who created Out of The Woodwork, currently on display on Tyson Plaza at Walton Arts Center.
More info: Here
Trailer for INSTALL: Here