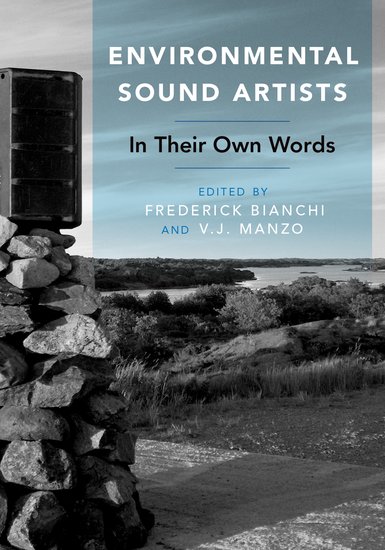 Honored to be part of this book with an essay on Sun Boxes.
Edited by Frederick Bianchi and V. J. Manzo and to be published by Oxford University Press on August 25 (July 12 on Amazon), Environmental Sound Artists is a new book exploring traditional and novel issues around the art of environmental sound:
'Environmental Sound Artists: In Their Own Words' is an incisive and imaginative look at the international environmental sound art movement, which emerged in the late 1960s. The term environmental sound art is generally applied to the work of sound artists who incorporate processes in which the artist actively engages with the environment. While the field of environmental sound art is diverse and includes a variety of approaches, the art form diverges from traditional contemporary music by the conscious and strategic integration of environmental impulses and natural processes.
This book presents a current perspective on the environmental sound art movement through a collection of personal writings by important environmental sound artists. Dismayed by the limitations and gradual breakdown of contemporary compositional strategies, environmental sound artists have sought alternate venues, genres, technologies, and delivery methods for their creative expression.
Environmental sound art is especially relevant because it addresses political, social, economic, scientific, and aesthetic issues. As a result, it has attracted the participation of artists internationally. Awareness and concern for the environment has connected and unified artists across the globe and has achieved a solidarity and clarity of purpose that is singularly unique and optimistic. The environmental sound art movement is borderless and thriving.
Here are some links of the authors:
Andrea Polli
https://youtu.be/-vgBAV2iLXY
Philip Blackburn
Bernie Krause
David Dunn
John Bullitt
John Luther Adams
Cheryl E. Leonard
Jeff Talman
Leah Barclay
Craig Colorusso
Joseph Bertolozzi
Marty Quinn
Bruce Odland
Zimoun
China Blue
David Rothenberg
Gordon Hempton
Dawn Scarfe
David Monacchi
Christopher DeLaurenti
Aki Passionals
https://soundcloud.com/aki_p/seawater
Matthew Burtner